Youth Group is Back!
Sign your student up to attend weekly youth group!
MIDDLE & HIGH SCHOOL
6:30 PM - 8:00 PM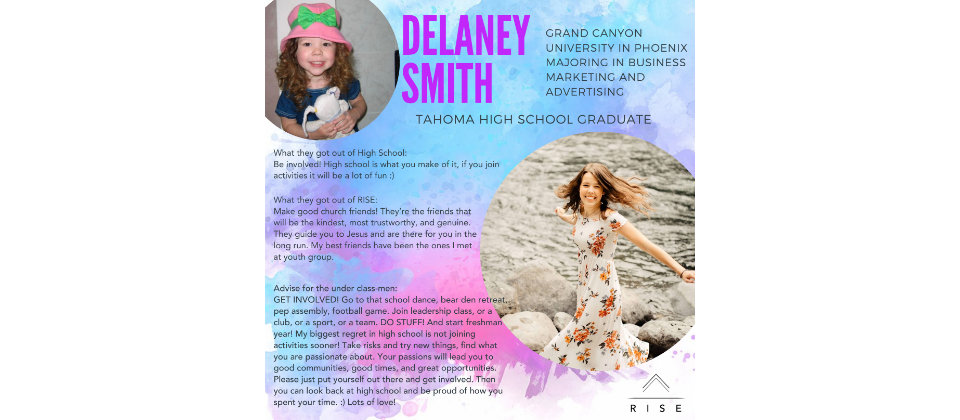 04.27.2020
by anonymous
on April 28, 2020
RISE YOUTH GROUP WILL BE MOVING TO AN ONLINE FORMAT UNTIL FURTHER NOTICE. PLEASE BE CHECKING FOR YOUR STUDENT'S SMALL GROUP LEADER TO REACH OUT WITH INFORMATION FOR MEETING THROUGH ZOOM.
DEVOTIONALS AND/OR TALKS WILL BE POSTED DAILY DURING THE WEEK ON BOTH OUR FACEBOOK AND INSTAGRAM. THESE DEVOTIONALS WILL FOLLOW THE HAPPY EASTER SERIES.
THIS WEEK AT RISE: (Online format until further notice)
April 29th – Easter Series – Easter means you're never alone.
The lesson will be posted by noon on Wednesday on the RISE Facebook and Instagram and in the youth section of the MVC website.
UPCOMING RISE YOUTH GROUPS: (Online format until further notice)
May 6th - Worth Repeating (New Series)
In this series, we're taking a look at one of the most powerful ways Jesus taught life-changing truths: stories. This series leads students through Jesus' parables, how they apply to our lives, and why they are "worth repeating."
May 6th - The Unlikely Neighbor
May 13th - The Lost Son
May 20th - Out at Midnight
May 27th - The Unfair Owner
UPCOMING RISE EVENTS:
May 1st – Zoom Game Night; 7-8pm
Join Zoom Meeting
https://us02web.zoom.us/j/87805021615?pwd=WXFnRUpva1JheTRLL3hFOVZIYy9NQT09
Meeting ID: 878 0502 1615
Password: 070460
Every Sunday: Check out the live stream of our 10:45am service! Live Stream can be found at maplevalleychurch.org Click here!
May 3rd – Sunday School 10 minutes after the Livestream ends.
RESOURCES:
We understand that this is a difficult and anxious time in our community. As an aid to you all, we want to provide two resources for navigating the upcoming weeks:
For a general guide in managing fear and anxiety in this time visit:

https://theparentcue.org/managing-fear-and-anxiety-during-a-health-pandemic/

For more information on how youth should be gathering while schools are closed, visit:

https://www.kingcounty.gov/depts/health/communicable-diseases/disease-control/novel-coronavirus/schools/closures.aspx
back