Youth Group is Back!
Sign your student up to attend weekly youth group!
MIDDLE & HIGH SCHOOL
6:30 PM - 8:00 PM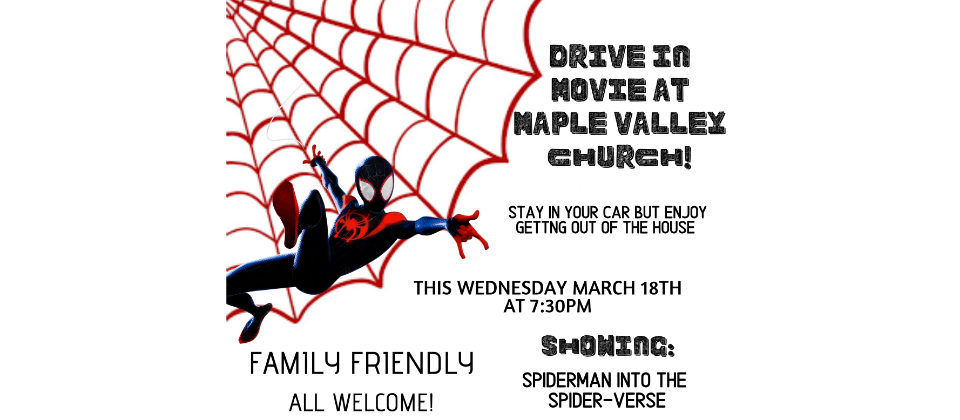 03.16.2020
by anonymous
on March 16, 2020
RISE YOUTH GROUP WILL BE MOVING TO AN ONLINE FORMAT UNTIL FURTHER NOTICE STARTING WEDNESDAY MARCH 25TH. PLEASE BE CHECKING FOR YOUR STUDENT'S SMALL GROUP LEADER TO REACH OUT WITH INFORMATION FOR MEETING THROUGH ZOOM.
DEVOTIONALS AND/OR TALKS WILL BE POSTED DAILY DURING THE WEEK ON BOTH OUR FACEBOOK AND INSTAGRAM. THESE DEVOTIONALS WILL FOLLOW THE REAL FRIENDS SERIES.
THIS WEEK AT RISE:
March 18th – Drive in Movie Night!
Come enjoy a movie night at Maple Valley Church in the parking lot! Starting at 7:30pm we will be showing Spiderman into the Spider-verse. This event is open to all families. Come hang out in your car and enjoy a night out of the house! It will be an evening to remember and the only rule is you must stay in your car!
UPCOMING RISE YOUTH GROUPS: (Online format until further notice)
March 25th – Real Friends; Week 1 Bottom Line- Will put others before themselves
Friends—we've all got them. But are your friends influencing your life for better or for worse? In this series, we'll look not only at the qualities we all want in good friends, but also the qualities that can help us be good friends. Because the right kind of friends—the real kind—are the best kind.
April 1st – Real Friends; Week 2 Bottom Line – Speak truth to those they love
April 8th - Real Friends, Week 3 Bottom Line – Carry people to Jesus
UPCOMING RISE EVENTS:
Check out the live stream of our 10:45am service! Live Stream can be found at maple valley church.org Click here!
RESOURCES:
We understand that this is a difficult and anxious time in our community. As an aid to you all, we want to provide two resources for navigating the upcoming weeks:
For a general guide in managing fear and anxiety in this time visit:

https://theparentcue.org/managing-fear-and-anxiety-during-a-health-pandemic/

For more information on how youth should be gathering while schools are closed, visit:

https://www.kingcounty.gov/depts/health/communicable-diseases/disease-control/novel-coronavirus/schools/closures.aspx
back