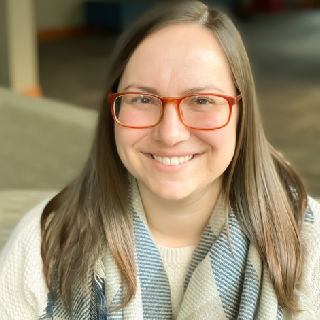 Jill Phenisee
|
Children's Ministry Associate (Early Childhood)
1. Who is in your family (people and pets)?
My husband Joseph Phenisee and our plant Henry
2. What is your favorite drink from Starbucks?
White Chocolate Mocha
3. When you were a child, what did you want to be when you grew up?
A mother or a zoologist
4. What is your dream vacation destination?
Ireland, Japan, or Korea
5. What singer/band are you embarrassed to admit you like?
Luciano Pavarotti's live performance of O Sole Mio in 1987, Madison Square Garden, was my jam all throughout undergrad.
6. Finish this sentence..."The world needs more..."
Love of Christ
7. Who do you admire?
My husband
8. When is it okay to start listening to Christmas music?
After Thanksgiving. Unless it's related to the birth of Christ. Hymns are always welcome!
9. What makes you smile?
Children doing anything, or youth having that "A-ha!" moment when learning the Bible, singing hymns, the smell of old books, the smell of new books, book stores, books.
10. Are you a morning person or a night owl?
Absolutely a night owl
11. What is your favorite Bible verse?
Psalm 126:5
< Back