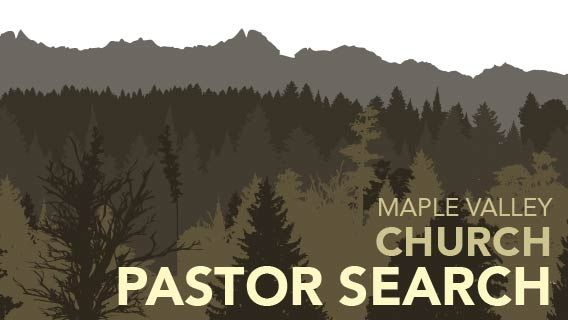 Senior Pastor Search
We are Maple Valley Church, a community of Christ followers who desire to find the individual God has called to be our next Senior Pastor/Head of Staff.


The position is open for applications until May 1st.
For the Pastor Nominating Committee voice mail:
425.432.5876 ext. 357
DESCRIPTION
The next Senior Pastor/Head of Staff at Maple Valley Presbyterian will be an excellent teacher and a visionary who can lead initiatives to completion. Come join our staff in Maple Valley, Washington, which has been named one of the top 10 places to raise a family.
Key responsibilities:
Shepherding and developing a staff of 16
Thoughtful, authentic, and Biblical preaching
Providing leadership and administration of spiritual growth in the congregation and outreach in the community
---
ABOUT US
Our congregation of 500 is a warm, Spirit-led community of small groups. Our strengths include a high sense of walking with Christ in our daily lives and a culture of service within our congregation and out in our community.
QUALIFICATIONS
Candidates must be qualified to be ordained in the Evangelical Covenant Order of Presbyterians (a denomination in the Reformed Tradition).
Certification/Training/Experience:
Master of Divinity and Ordination and a pastor (or equivalent)
Clinical Pastoral Education Training (desired)
5-7 years of pastoral leadership (desired)

To learn more about the position and how to apply, please download the Church Information Form. To better understand our church history, our current programs and our path forward, please download our Mission Study.