As we prayerfully seek

God's perfect plan for Maple Valley Church, we CELEBRATE His faithfulness, glory, strength and love! We believe He has called MVC to increase our capability and reach to bring His love to the rapidly growing community of Maple Valley and the South King County area. To answer this call, a leadership team was formed to bring the WE ARE FAMILY IMPACT INITIATIVE to the covenant partners and friends of our church.

This commitment overview is intended to provide the rationale behind the IMPACT INITIATIVE. It details how the IMPACT INITIATIVE is aligned with MVC's Vision & Mission and previews initial elements of the execution plan. It is our hope that this information will serve as an initial guide for MVC leadership and all covenant partners.
.


Simply stated, it will enable MVC to dramatically increase our impact in the growing community around us. It is the next major step supporting our 2020-2025 Vision & Mission by opening new physical space to meet the needs of our growing church and community so that there is a place for everyone.
Specifically, it will:

Increase the capacity of our Maple Valley Christian Preschool to meet the community demand for Christ-centered early childhood education

Increase the capacity of the Children's Ministry area and provide climate-controlled, safe, and intentionally designed spaces

Create needed space for our new ministries, like Foster and Adoption Ministry

Increase the amount of comfortable and effective meeting space for all ministries, from Youth through Daytimers

Support our ability to produce quality video/recordings to increase our digital reach of the Gospel

Fundamentally, we are expanding our home base and responding to our calling in this community. The planned growth is a reclaiming of current spaces and creation of new areas for active ministry across all age groups.
We believe this initiative follows our core Biblical Values:
Biblical Integrity
Provide more opportunities for Christian Education and spiritual formation at every age and stage of life
Intentional Community
To reach new people and incorporate them into the life of the church

Enhance children's and youth ministries to better serve families in our community

Deepen our connection to God through stronger worship services that inspire and reach our congregation and community
Outward Focus
To expand our reach and impact with Deacons and Missions both locally and globally

South King County is growing at unprecedented rates. We see God moving in powerful ways and we need to keep our physical church building ready and relevant so that we may be used on the front lines to serve and minster as we are led.


This has been a key question in our discernment process and as we continue seeking God's will. The Impact Initiative is not a short term "campaign," rather a deliberate, long-term investment for MVC. This plan starts with a promise that we will not make any new financial commitments until our existing responsibilities are paid off. The GREAT news is our existing loan was fully paid off in September this year! This blessing enables us to fully commit to this Initiative unencumbered.
To meet our desired goal, the financial goal for the Initiative is $6m, raised over 3 years. The Lord has blessed us with the key talent, right here in our church, needed to plan and execute this type of undertaking.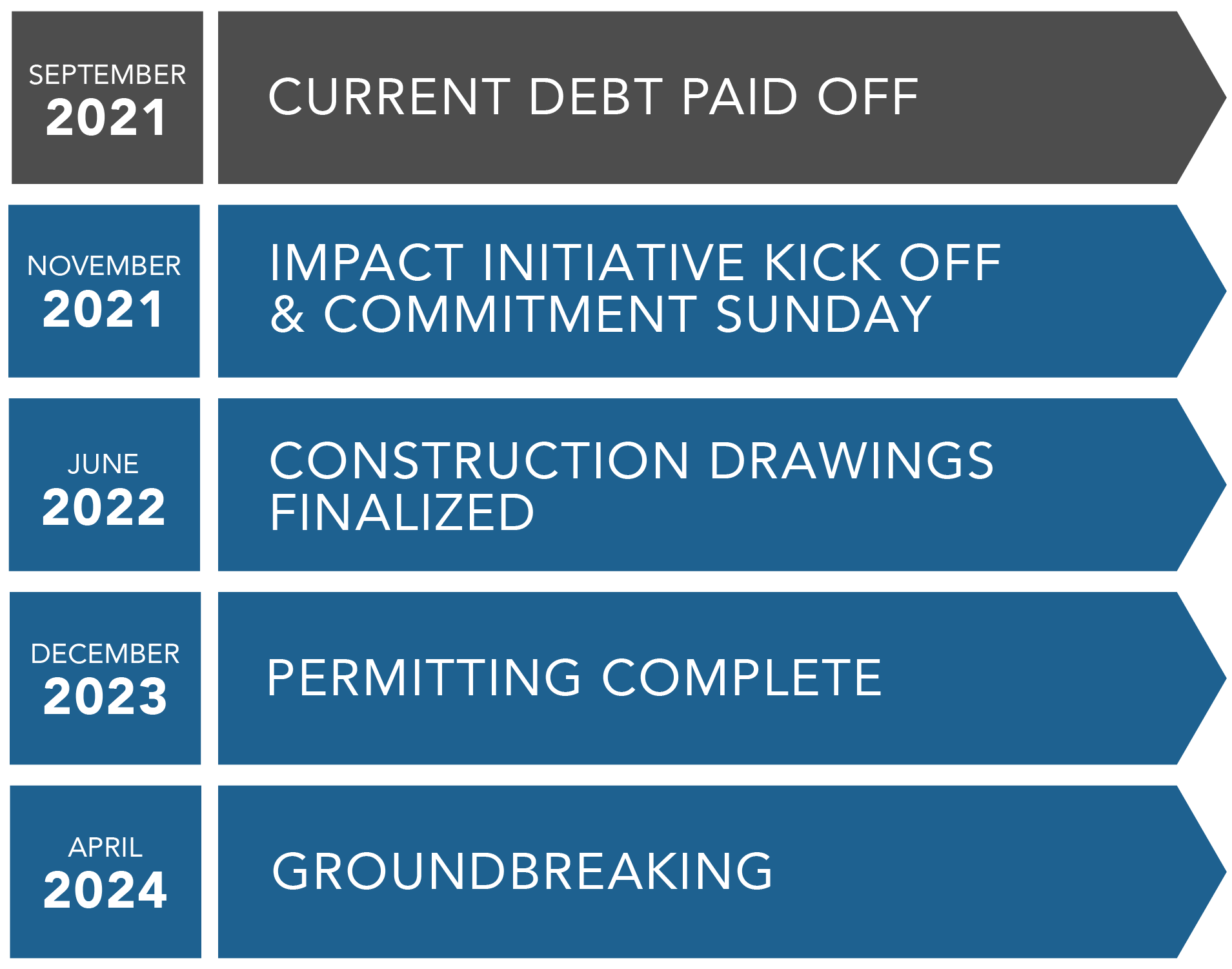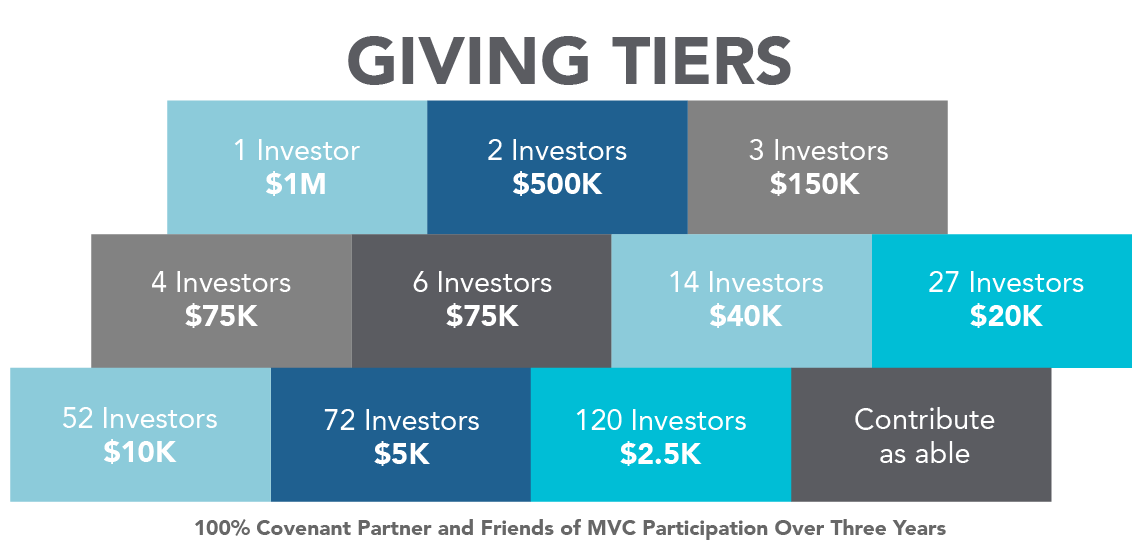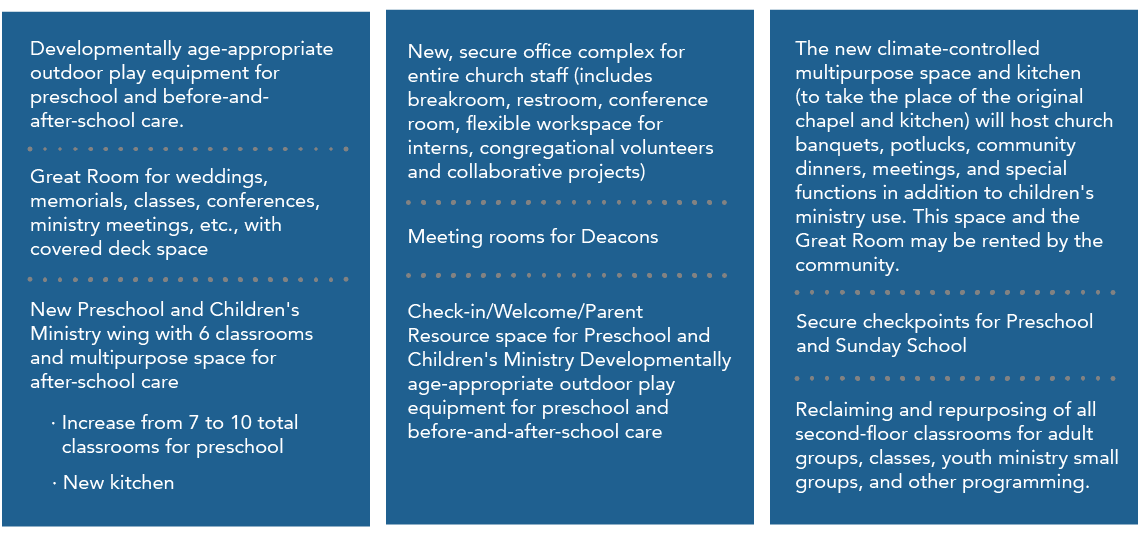 The developmentally appropriate playgrounds are not just new slides. It fulfills the strict King County requirements for Before/After School Care Facilities. God has strategically placed our church between two elementary schools where parents are in desperate need of care options. As this felt need is met by MVC and care anxieties dissipate in parents and guardians, it opens the door for masses of new community members to hear the Gospel!
People come to the front office of a church for a host of reasons. They could be in the midst of a critical need, grieving a loved one, or looking for a new school or church. Deacons regularly meet with people in dire circumstances and during school hours, one of the only places they most often meet is in the foyer outside of the church office or in a preschool classroom on tiny chairs. We want to offer a space with dignity for care meetings and private counseling for those who come to our front door.

A bright and inviting Great Room will host memorable life events, classes, and receptions. With high ceilings and doors opening to a covered deck for our PNW weather, this will indeed be a space our church family, ministry partners, and community will seek to use all year long. Parents have safety on their minds first and foremost in the modern age. From restrooms locations to exterior door placements, to double checkpoint locations and proper PA system, the plan has safety at its core. But kids and families alike will also say, "WOW!" when they experience an intentional design that provokes wonder, imagination, and joy as they come to Sunday School or Preschool each week. Staff collaborates daily with one another, church Session, ministry leaders and volunteers. Currently, there is no workspace for those critical leaders, nor is there space for our summer interns. By placing staff in one central location and building space for all ministry leaders to work in physical proximity to one another, theoutflow of that integration for Kingdom work will benefit all.