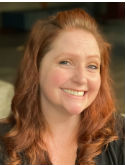 1. Who is in your family (people and pets)?
Steve(Hubby) and two sons Declan and Lochlan. No pets because kids and hubby have allergies but I am for sure a dog person.
2. What is your favorite drink from Starbucks?
Peppermint Mocha
3. When you were a child, what did you want to be when you grew up?
I wanted to be "a star". I would perform and sing for anyone who would listen. The home videos are super embarrassing.
4. What is your dream vacation destination?
Disneyland when the new Star Wars Land opens.
5. What singer/band are you embarrassed to admit you like?
Imagination Movers. They have some really fun songs that put a smile on my face.
6. Finish this sentence..."The world needs more..."
Childlike imagination and reasons to wear capes.
7. Who do you admire?
Keith Green, I loved his unapologetic faith and his desperation to share the gospel. I want to love God and people the way he did.
8. When is it okay to start listening to Christmas music?
When Starbucks starts serving Pumpkin Spice Lattes.
9. What makes you smile?
Kids learning something new about God, rainy days, peppermint mochas, video games, and of course Star Wars.
10. Are you a morning person or a night owl?
Night Owl for sure. People regularly receive e-mails from me after midnight and we have a rule in my house that nobody talks to mommy for the 1st hour that she is up (it is truly for everyone's safety).
11. What is your favorite Bible verse?
1 Corinthians 13:1-3