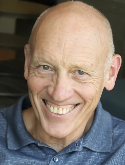 Mark Fisher a.k.a. "Mark vs. Wild" has been on staff at MVPC since 2007 as Director of Pastoral Care. Prior to that he and his family served for 18 years as missionaries with Wycliffe Bible Translators. Four of those years were spent in the jungle of Peru on the Amazon teaching in missionary schools. 10 more years found Mark and his family serving in the Andes of Peru and Ecuador teaching and working with missionary kids.

Mark holds several degrees including a BA in Biblical Lit, History and Teaching certification, an MA in Human Resources and Development and he is an ordained minister in the Assemblies of God.

Mark and his wife Carol have 3 children; Rian, Shannon and Sara and they are now enjoying their grandchildren very much! Mark is an avid outdoorsman; he loves climbing mountains, he has climbed the highest peaks in Ecuador and Peru along with Mt. Rainier 20 times (and counting), hiking, fishing, snowshoeing, scuba diving and mountain biking. Mark also enjoys astronomy, using his telescope to watch the heavens. He says, "I actually hardly have time to work! Ha, Ha!" One little known fact about Mark is that he is addicted to hot chocolate!